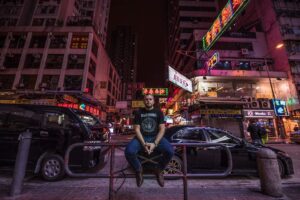 Master Tour version: PROFESSIONAL
"Master tour has allowed me to cover all my tour needs in scheduling & executing shows around the world."
Quick Bio: Tour Manager based out of New Orleans, LA. Born and raised in Mobile, AL. Called Austin and Nashville home before finally making my way to New Orleans. Working now primarily in electronic music, I toured with bands in the beginning. Fast forward to present day, now traveling/ touring around the world. One show at a time.
5 Q's:
How did you get started in the industry and when?


I got my start around 2009/2010, while in college. Volunteering in organizations such as Headcount, Conscious Alliance, and artist street teams opened doors for new opportunities to meet people, engage, and travel to shows, and or festivals. Can never go wrong with volunteering. My first gig would be artist transport at Hangout Music Festival in 2011.

What is your favorite venue to see a show at and why?


Red Rocks is by far one of my favorite venues in the country to see a show. Natural stage built into the mountain with the Denver skyline in the distance can't be beat. Red Rocks is such a special place for so many, artists and fans alike, so there is always this amazing energy there. From working gigs at Red Rocks to just catching a show as a fan, I always can't wait to go back.

What's your ideal city to have a day off? Why?


Too many cities to name, but I love Austin. A bit off the tour path for the rest of the US, but if you are doing a Texas run and have a chance to have a day off in the city, you'll be surprised how much there is to do in ATX. Most of the city is relatively central to downtown, so whether you are living on the tour bus or at a hotel, it's easy to get around. Have to do Tex-Mex while in the city, grab some tacos, and hit Barton Springs Pool to cool down. I suggest taking a walk on Congress for local shops and a great view of downtown. If you want to catch a live show, make your way to Red River for some of the best venues in the city.

What is your secret to staying healthy on the road?


My secret to staying healthy on the road is setting a foundation up front and creating the perfect hospitality rider to support your team's diet. Building a hospitality rider that supports a healthy and sustainable diet will help influence team/crew decisions on the road when picking your next meal. Always shooting to bring in health conscious catering companies as well, if at all possible. Staying healthy on the road can be tough but I believe setting the foundation to make healthier choices truly helps in the long run.

What was your first touring gig and when?


My first touring gig was with the band, Boombox out of Muscle Shoals, AL back in 2012 (Would tour with the band on/off through late 2013). I made cheap business cards out of stock paper that I'd pass to bands that pretty much just had on old photo of myself and my # saying I'll do whatever it takes. Boombox gave me a shot to drive the band on tour. Living in a 15-passenger van around the US. Thankful for the opportunity they gave me that would change my life forever. To the first tour manager I learned from, Heath Bennett, Thank You.
Master tour has allowed me to cover all tour needs in scheduling & executing shows around the world. Over 5 years as a master tour Professional account user.
The ease of access between platforms (laptop, cellphone, app etc.) has allowed me to keep my team/ tour on track. Ease of communication, edits on the go with an ever changing schedule helps life keep on moving without any missing information. Know where you are headed, the tour directory has been super helpful with just about everything you need from venue info, contacts, hotels, and local food suggestions in the area. Recommended by other Master Tour users, and tour professionals, so you have recommendations you can trust.