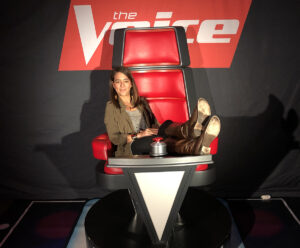 Master Tour version: PROFESSIONAL
"Master Tour has completely revolutionized our day-to-day at Warner Music Nashville."
Quick Bio:I am currently the head of Warner Music Nashville's (WMN) Tour Development Department. I moved down to Nashville a little over two years ago to help start the Department and haven't looked back since. Prior to WMN, I was working at Warner Records on their radio promotion team. Over the course of a couple of years I worked in both the L.A. and NYC offices–doing everything from tracking our rolling airplay, to sending sales/consumption data to the entire label, to covering shows, creating ads for promo, handling all departmental ticket requests, to planning monthly happy hours in NYC. It was through these happy hours that I met Matt Signore, who was the head of WEA at the time and is now the COO at WMN. Matt was instrumental to my move down to Nashville–he was the one who first mentioned this position to me and connected me to our EVP / GM, Ben Kline, who hired me. While covering shows for Warner, I was also attending WMN shows in the New York area and meeting a lot of their staff organically, with the help of one of our regional radio managers, Diane Monk. I'll forever be thankful to Matt, Ben, and Diane for helping connect the dots and getting me down to Nashville. Prior to working in promo, I worked in UTA's brand agency and Andra Day's management team. I also interned at Rolling Stone South Africa in Cape Town and Warner's publicity department, and I was the PD and an on-air personality at the University of Southern California's student-run radio station, KXSC. My role now at Warner Nashville, and my move down South, has really taken my career full-circle since my first music internship was at Warner.
5 Q's:
What does your current role at WMN entail? Any time our artists leave the Nashville area, it will come under my wing in some capacity. My number one priority is to add value to our artists touring career. We help to do that by interfacing with every employee at WMN and our respective management and agent teams to build strategic promo days on the road. That involves creating touring opportunities, setting up promotions, securing tickets/M&G/AA passes for partners and staff, and re-envisioning things such as "radio tours." Once an industry standard, we are constantly challenging the constraints of a typical "radio tour." By re-branding them as "market tours," we ensure that our artists are meeting with all of the power-players on their journey across the country–from radio to streaming to brand agencies to music directors. We also sprinkle these visits with unique showcases and fan experiences. I think that this model is really the way of the future. Our leadership team here takes artist development seriously and is not afraid to try something new, which has been the gift that keeps on giving. Our entire office understands what we're trying to do and is fully supportive of what we're building.
What is your favorite venue to see a show at and why? Ascend Amphitheatre in Nashville, TN. Ascend has somewhat become my second home in Nashville. You don't get a much better view or atmosphere as a fan or artist with the Nashville skyline, river, and Korean Veterans Memorial Bridge as your backdrop in the middle of downtown. In addition to seeing some of my most memorable shows there as a fan (The National, Halsey, and The 1975, etc.), I've also spent countless hours there behind the scenes co-proing Warner takeovers ("Warner Live") at CMA Fest alongside the CMA. For the third consecutive year, we sold out this show and Hunter Hayes and Cody Johnson became the first co-headliners to sell out the stage in CMA Fest history. These shows have truly become an all hands on deck effort and I'm so proud of what we've built. Helping to deliver such an important show, and night, to our team and our artists has been one of the greatest joys of my career so far.
Have you seen record labels getting more involved in touring support & services in recent years? Absolutely! We have a invested responsibility to add value to our artists' touring careers and I take that part of my job very seriously. As labels now often participate in an artist's touring income as part of their overall deal, we have a vested interest in helping to maximize that income and create opportunities. Accordingly, it is more important than ever that we are involved in the process. We're not here to book or route tours, but we are here to help develop our acts in the touring space. We're another voice carrying their torch and pitching them for high-profile tours, giving our partners the data and marketing tools they need to book dates, sell tickets, and strategize the artists' time in the marketplace alongside their management teams. Harlan Frey and his team at Atlantic built this model for the pop world and we're bringing it to country.

How has Master Tour changed the way that you work with artists & touring? Master Tour has completely revolutionized our day-to-day at WMN. Prior to my arrival in Nashville there was no one dedicated to the touring space and basic things like ticketing and scheduling were getting handed off to other individuals who didn't have time to deal with all of the influx of information on top of their full-time jobs. Ticket requests and artists schedules were being tracked via Excel grids and Word documents over email. While I knew that this was commonplace at other labels, I had the unique opportunity to build something new and wanted to make sure that I was setting our team up for success. After looking into a variety of programs and reaching out for recommendations, it was clear that Master Tour could provide us with everything we were looking for as a label. It was a real-time database that could track ticket requests, build schedules, and house calendars. Completely foreign two years ago, you now can't step into a meeting in our building without Master Tour being referenced or someone pulling up the app. It has significantly impacted the DNA and day-to-day operations of our company.

What features would be most valuable for you to see in a future version of Master Tour and why? I've been lucky enough to have been working closely with Paul, John, and Christian at Eventric over the past couple years and a lot of the feedback we've given them in that period has been worked into Master Tour 3.0! One of the new features I'm most excited for is the calendar functionality which allows us to view all of the artists on our roster in one place. Going forward, I would love to be able to export the current calendar into Excel with filters and to have the ability to share schedules and day sheets across multiple tours. Working across dozens of tours simultaneously each day, it would be great to be able import or export the data we're currently inputting manually from co-existing management day sheets and tours.