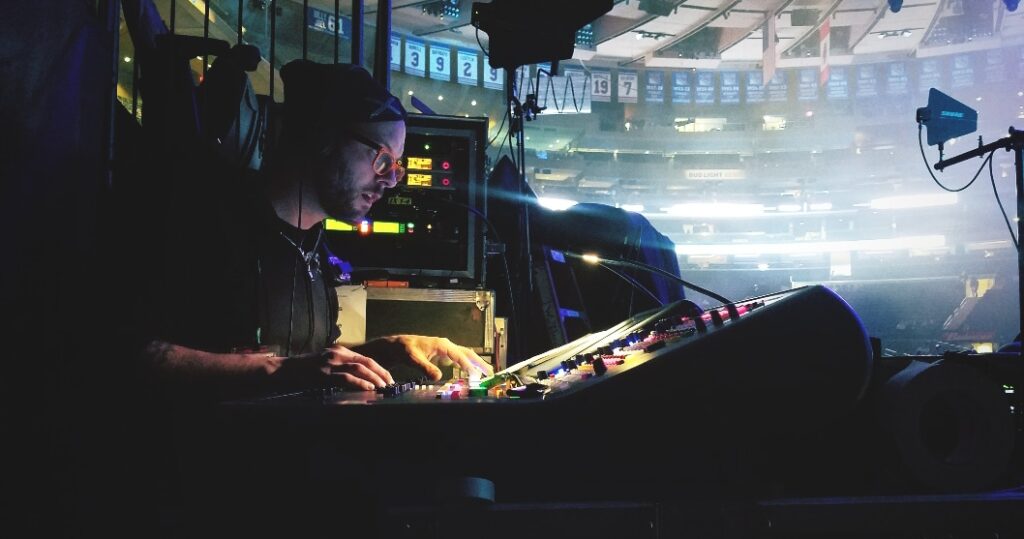 Master Tour version: PROFESSIONAL
"One of my favorite uses of Master Tour was on Thanksgiving. I sent out the day sheets to the guests. We had multiple ovens going to prepare this massive meal! Everything was timed out as a scheduled item, everyone knew what they had to do."
Touring FOH; Here for the food.
Currently, TM/FOH: Billy Bragg, Helmet, The Antlers.
TM/MONS: The Faint
5 Q's:
What is your favorite venue to play and why? That's a very difficult question and I feel it should be broken up by country. There are so may great venues out there. For the sake of keeping this list short, US & EU: In the US, I would say the Fox Theatre in Oakland is a front runner. It's a stunningly beautiful theatre and as an FOH engineer I'm always happy there. And most importantly, some of the best showers you'll ever see backstage! Plenty of fully stocked shower rooms with everything you'll need. That kind of thing makes a huge difference. In Europe, Doornroosjein Nijmegan, NL is a winner. It's a pretty perfect sounding room. Makes for a great time at FOH. Catering in house is awesome and the communal catering room is a place I would love to eat every meal in. Little icing on the cake – there's a crane to lift and turn your bus around so your driver doesn't have to back out.
What three items do you absolutely need when on tour? Other than the obvious tools of the trade… (Master Tour, duh) 1: Any device to video chat with my partner, Ashley. She keeps me going. And sends me videos of our dog. 2: Any cooking vessel. Some tours I will bring out a dehydrator and make beef jerky / dried fruit. Some tours it's a small charcoal chimney starter to rig up some way to make a parking lot steak. Other tours, a full grill / smoker. 3: Reusable Water Bottle. The average bus tours consume 1500 single use bottles per bus per month. I love my job, and if we want to keep doing this job, we need to make the little efforts to keep it going.
What is your secret to staying healthy on the road? Mental Health: I only tour with nice people. There are less than nice bands out there, I don't need that. That is a very unhealthy life style. Being around the right people makes all the difference. Physical Health: I try not to eat too poorly, but it's all about the food & wine while traveling. Some larger tours I seem to have less stress and more time, so going for a run is a nice option. Perfect Push-up travel edition is an excellent piece of equipment for the road. It's a really easy core work out and get's the blood flowing.
What was your first touring gig and when? Oberhofer in 2010. My friend Matt Scheiner asked me if I wanted to help mix this band he's playing in for a few weeks. And somehow, I became a TM.

What's your ideal city to have a day off? Why? What do you recommend to do here? Same as the venue question, too many to decide. In the US, New Orleans. Needs no explanation. Overseas, Prague. Everything is very affordable. 9th century architecture is stunning. Hunker down with a bowl of goulash and a pint for just a couple dollars. Walk through old castles and fortresses.